Customer Reviews
Write a Review
Ask a Question
Purple rain
It's great. Love the black currant flavour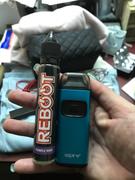 Hubba Bubba Grape
Awesome flavour, flashback to my childhood - just like Grape Hubba Bubba bubblegum. My new all day fave.
Questions & Answers
If you have any questions about this product, post it here and The Vape Store team as well as customers who have purchased this product will have the opportunity to help you out.
Why Did Our Customers Buy This Item?