The Devilkin 225W TC and TFV12 Prince Full Kit from SMOK has been designed to integrate all of SMOK's cutting edge features, design and output technology into a compact and visually striking kit.
The Devilkin mod features an upgraded 1.3 inch HD screen that gives you a bunch of vaping data. The chipset is capable of 1 to 225W of output. It also features a trio of output setting adjustments and comprehensive temperature control suite that packs in adjustable TCR as well as preheat capability.
The Devilkin has a rich, intuitive menu design accessed through a three-button interface. The mod requires two 18650 batteries (not included).
Each kit comes with the SMOK TFV12 Prince Sub-Ohm Tank which combines the best elements of the TFV12 and TFV8 Baby. The tank has an 8ml capacity while allowing for the full range of the TFV12.

Kit Includes:
1 x SMOK Devilkin 225W TC Box Mod
1 x SMOK TFV12 Prince Sub-Ohm Tank
1 x V12 Prince Q4 Coil Head
1 x V12 Prince T10 Coil Head
USB Charging Cable
Replacement Parts and Glass
User Manual

Features:
1 to 225W power output
0.5V to 9V
0.1 to 2.5 ohm atomiser resistance range
Firmware upgradeable
Temperature control output for nickel, titianium, stainless steel and TCR
1.3" Colorful HD Screen
Menu colour customisable
Innovative and ergonomic firing mechanism
Zinc Alloy Chassis
2x 18650 battery powered (NOT INCLUDED)


YOU WILL ALSO NEED:


REQUIRED
(Sold Separately)
RECOMMENDED
(Optional)


Important:
The TFV12 Prince coils are disposable consumable parts and as such over time will need to be replaced to maintain a great vaping experience. Typically a coil will last 1 - 2 weeks before it will need to be replaced. You can purchase replacement coils here: TFV12 Prince coils
Customer Reviews
Write a Review
Ask a Question
SMOK Devilkin
Great Vape - Great feel - Strange I downloaded the SMOK App and it said DO NOT BUY it's not genuine. I didn't care It works great !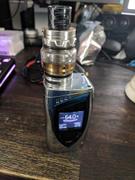 03 September 2018
The Vape Store
Hi Joe, I am unsure why it is telling you that it isn't genuine. Everything we sell is genuine :)
All day Vaping
This vape is great for a big lung hit, clouds are enormous flavour isn't as much as the baby beast tank. Battery's last all day.
Smok devilkin great product
Item was delivered next day, put batteries and primed coil with sum space madness, good amount of vape, nice flow an flavour, simple to use would definitely recommend for a beginner or experienced vapour