25mm diameter base
28mm at widest point
Hinge and lock top fill system
5ml Max standard capacity
8ml Max convex glass extension capacity
Dual Adjustable Airslots
Stainless Steel and Glass Construction
Customer Reviews
JS
09/03/2018
Joe S.
Australia
SMOK Devilkin
Great Vape - Great feel - Strange I downloaded the SMOK App and it said DO NOT BUY it's not genuine. I didn't care It works great !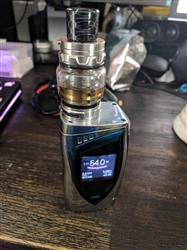 09/03/2018
The Vape Store
Hi Joe, I am unsure why it is telling you that it isn't genuine. Everything we sell is genuine :)
06/30/2018
Stephen T.
Australia
06/17/2018
Tim S.
Australia
Questions & Answers
If you have any questions about this product, post it here and The Vape Store team as well as customers who have purchased this product will have the opportunity to help you out.