Reviews
Specifications:
22mm Diameter
42mm Overall Height
2mL Tank Capacity
Superior 304 Stainless Steel Construction
Pyrex Glass Reinforcement
6mm Vertical Two-Post Design
2.5mm Terminal Post Holes
Single or Dual Configurations
Dual Air Tubes Inside Chamber
Ultra-Wide Adjustable Airslots at Base
Convenient Top-Fill
6mm Sloped Delrin Widebore Drip
510 Drip Tip Adapter Included
Easy Disassemble System for Convenient Cleaning
Gold-Plated 510 Contact
Customer Reviews
03/20/2018
Mathew B.
Australia
First rebuildable for me, Very impressed !
Overall, as someone buying/trying they're first rebuildable set up, I'm happy I did buy the Moonshot. Being new and not knowing a great deal about it all besides from watching some Youtube videos on this rebuildable and coil making, I also brought the Demon Killer 8-in-1 Pre-built Kanthal Coil Set not wanting to dive straight into trying to make coils. Happy with them too. I buy flavour/concentrates and mix my own Juice's most times, this thing gives good flavour and clouds at pg50/vg50 mix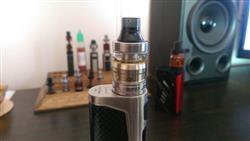 Questions & Answers
If you have any questions about this product, post it here and The Vape Store team as well as customers who have purchased this product will have the opportunity to help you out.