The Innokin EQ Pod Starter Kit is a small, sleek and excellent device from Innokin. It uses Innokin's flavour-enhancing 0.5ohm Plexus coils in a replaceable pod, giving excellent flavour and decent vapour production for such a small device. For out and about, this is the perfect accompaniment to your main kit, or even something for new vapers to kick smoking. The Innokin Plexus coil is the first mouth-to-lung mesh coil.
The Innokin EQ Pod is perfect for higher concentrations of nicotine in the form of nicotine salts. For those who have tried quitting and not succeeded so far, vaping a higher concentration (~15-25mg) of nicotine salts in a pod system may be the way to go.
In regular mode, the EQ Pod outputs a regulated 13.5 watts, while in boost mode it outputs 15.5 watts. The pods are refillable and hold 2ml of e-liquid, meaning you only replace the pod when the coil goes. Refilling is easier than any other pod system we've seen - just pull the pod out, twist the base and refill through the hole. There's no need to remove any parts, and the fill ports are very large.
The EQ Pod Starter Kit has a built-in 800mah battery, as well as a battery indicator which will show you when the battery is full on charge and low on charge. It's got a Micro USB port at the base of the device for charging from any powered USB output.
Innokin state that the Plexus coil "lasts much longer than regular coils ... [the] rapid heat diffusion of the Plexus coil eliminates hot spots and increases coil life."

Kit Includes:
Innokin EQ Pod Starter Kit
2ml EQ Refillable Pod w/ 0.5 ohm Plexus coil
Micro USB Charging Cable
User Manual

Features:
Comes with 0.5 ohm Plexus coils
Refillable pod system
Replacement pods available
Easy fill pod system
2ml capacity
800mah battery capacity


YOU WILL ALSO NEED:


REQUIRED
(Sold Separately)
RECOMMENDED
(Optional)


Important:
The Innokin EQ Replacement Pod are disposable consumable parts and as such over time will need to be replaced to maintain a great vaping experience. Typically a coil will last 1 - 2 weeks before it will need to be replaced. You can purchase replacement coils here: Innokin EQ Replacement Pod
Customer Reviews
Write a Review
Ask a Question
30 January 2019
Lesley T.
Excellent
I love my pod. Now I have bought the nicotine and mixed it with my juices it is great. Thank you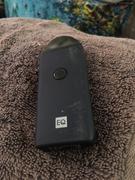 30 January 2019
Deborah-Lee P.
Quitting
Highly recommend this product, combined with the salts it makes quitting those little white sticks easier
16 October 2018
Matthew B.
Fantastic
Love the "pod",works great with salt, small enough to fit in top pocket, no spills and chargers fast to. Cheers