The Innokin Adept MTL Starter Kit is an IP67-rated Shockproof, Dustproof and Waterproof kit perfect for people looking to make the switch away from smoking, or experienced vapers who enjoy a mouth-to-lung inhale and are looking for a strong and reliable device.
Designed by Innokin in conjunction with YouTube vaping advocates PBusardo and VapingGreek, the Adept will provide all-day vaping with a huge internal 3000mAh battery.
The device outputs up to 17 watts in two separate sets of four different wattages. For coils below 1.0 ohms it can run at 14, 15, 16 or 17 watts; and for coils above 1.0 ohms it can run at 11, 12, 13 and 14 watts. The device will auto-select the range, and you can then adjust to suit your needs.
The kit comes with the 2ml Innokin Zlide tank, which runs on the very popular and well-regarded Zenith coils (now renamed Z-Coils) which are available in various resistances, including: 1.6 ohms (10-14W), 0.8 ohms (14-17W), 0.5 ohms (13-17W) and 0.48 ohms Plex3D (13-17W). It's called the 'Zlide' because it takes these Z-Coils and slides open at the top to refill.
Charging is done on-board via the included Micro USB port, and is able to be done at 2A, meaning just an hour and a half from empty to full. The device is finished with a soft-touch rubberised coating that adds protection, and makes it both difficult to scratch and easier to hold.

Kit Includes:
Innokin Adept Mod
Innokin Zlide Tank
Zenith Plex3D 0.48 ohm Coil
Zenith 1.6 ohm Coil
Spare Parts
Replacement Glass
User Manual

Features:
Mouth-to-lung vape
Large battery capacity
Range of coils
Intelligent resistance-sensing technology
Adjustable wattage
Top-filling tank


YOU WILL ALSO NEED:


REQUIRED
(Sold Separately)
RECOMMENDED
(Optional)


Important:
The Innokin Zenith Coils are disposable consumable parts and as such over time will need to be replaced to maintain a great vaping experience. Typically a coil will last 1 - 2 weeks before it will need to be replaced. You can purchase replacement coils here: Innokin Zenith Coils
Customer Reviews
Write a Review
Ask a Question
Filter Reviews:
web page
Sydney
Melbourne
users
instructions
smoking
delivery
25 November 2019
Sven H.

Australia
Innokin Adept MTL Zlide tank
It is what as described on the web page. Fast delivery and easy instructions for first time users.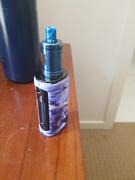 09 November 2019
Scott W.

Australia
Sw
Ordered from Melbourne was in Sydney the next day. Very happy with the product. This is an easy way to give up smoking